6th Frankfurt Gas Forum 2018
The 6th Frankfurt Gas Forum 2018 was a huge success! 
That year's forum attracted a distinguished line-up of the most influential German, European and American energy leaders and government decision makers. Our aim is to help promote European and American energy cooperation and strengthen security of gas supply.
The off the record and non-attribution discussions at the Forum, enabled the dissemination of market insight regarding the diversification of European gas supplies. 
We look forward to welcoming you to the next 7th Frankfurt Gas Forum 2019 on 11 & 12 December, 2019 at the Schlosshotel Kronberg.
Partners
Partner
Industry Partner
Knowledge Partners
Policy Partner
6th Frankfurt Gas Forum 2018 Venue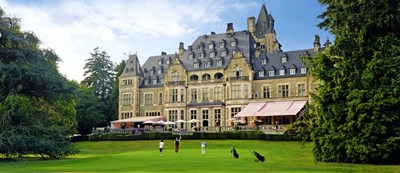 Schlosshotel Kronberg
The 5-star luxury hotel in the Taunus is located above the picturesque Taunus town of Kronberg in the middle of an impressive park next to an 18-hole golf course. As a golf resort and luxurious country hotel, the Schlosshotel in the Taunus is loved in equal measure by golfers, gourmets and people who appreciate art and traditional values.
The Schlosshotel Kronberg, also a Golf resort and castle hotel, is owned by the Landgrave and Princes von Hessen and has since 1954 been a grand hotel of the first order. Built under commission from Empress Victoria Friedrich and completed in 1893, Schloss Friedrichshof is today one of the most impressive German castles and offers its guests living history to touch and feel. Exclusive furnishings and an impressive collection of antiques and paintings from the private estate of the mother of the last Kaiser convey the authentic ambience of a castle from imperial times.
The Schlosshotel is well-established in the Taunus and the whole Rhine-Main region as an exclusive hotel for corporate event or business meeting in a stylish setting for all kinds of banquets and celebrations.
READ MORE +